West Region Club Championships 2017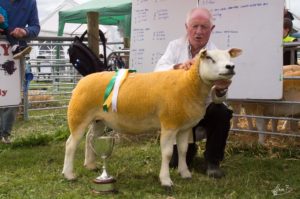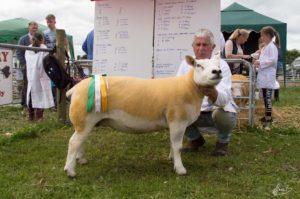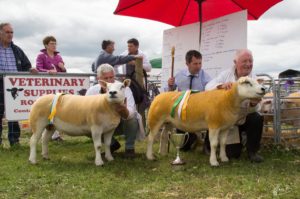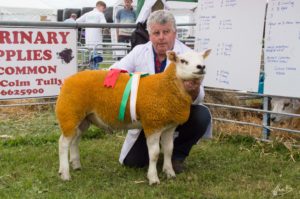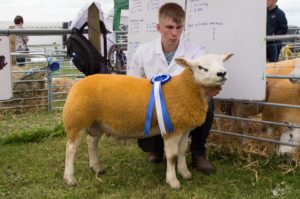 After a last minute change of date and venue due to the cancellation of Galway County Show, the West Region Championships for 2017 were held at Athlone Agri-Show on Sunday 25th June.
On a beautiful warm sunny day which was a welcome change from the torrential rain which was a feature of the 2016 Championships, over 120 Texels were put before our Judge, John Foster of Springhill Texels from Castlederg, Co. Tyrone
We started with the Senior Ram Class. Niland's White Knight exhibited by Gerard Niland took the red rosette. He was sired by Knock Ursus, his dam was Chessy PNI 10103 by Ettrick Oki Doki.
We had a fine display of Senior Ewes with Tom Kenny's ewe Hillswood KTE14029 by Annakisha Uproar and a Chessy ewe by Ettrick Oki Doki taking 1st place. Alma & Lorraine Brennan, Brendan & Patrick Hanley, PJ Kenny, Tom Kenny and David Gibbons were the other prizewinners, in that order
PJ Kenny's Shearling Ram Shannagh YoYo was the winner in the next class. He is by Knock Trident and a Shannagh ewe by Mossknowe Pudsey. Brendan & Patrick Hanley were 2nd & 4th in this class, with Cyril Keane 3rd, and John Brooks and John Higgins 5th & 6th respectively
Padraic Niland won the Shearling Ewe class with a fine gimmer PNI 16038 by Niland's White Knight (winner of the Senior Ram class) and a Chessy Ewe by Wayside Topgun. Seamus Delaney was 2nd, with Darragh Cunniffe, Gerard Niland, Brendan & Patrick Hanley and Alma & Lorraine Brennan in 3rd, 4th, 5th & 6th places
Padraig Treacy's Gailey A One, a half-brother to last year's 8,000gns lamb in Blessington took 1st place in the Senior Ram Lamb class. He is by Baltier Nailer and a Gailey ewe by Duncryne Uber Cool. Tom Kenny swept the boards in this class taking 2nd, 3rd, 5th & 6th places with Darragh Cunniffe in 4th place.
In the Senior Ewe Lamb class, Brian Connelly took 1st place with a ewe lamb by Thornville Yankee Doodle Dandy and a Turoe ewe by Master Vantastic. John J Brennan was 2nd; Tom Kenny was 3rd and 5th, with Brendan & Patrick Hanley 4th and Gerard Warde 6th
Maree AP McCoy exhibited by Cyril Keane was the winner of the class for Ram Lambs born after 1st March. He is by Tooreen West Yehudi and a Maree ewe by Craighead Masterpiece. Other prizewinners were Gerard Warde, Tom Kenny, Kenneth Bailey, Michael Haverty and John McGloin
In the class for Ewe Lambs born after 1st March John Brooks ewe lamb took the red rosette. She's by Millar's Windbrook and a Racepark Ewe by Glenside Razzle Dazzle. Patrick Joyce was 2nd with Padraic Niland, Tom Kenny, John Brooks and Brian Egan also in the prizes.
In the class for members who joined the Society since 2011, Brian Connelly's Ram Lamb, Stonepark Ace by Stonepark Yuri and a Miller Ewe by Donnelly Ultan was 1st, with Brian Egan in 2nd place.
In the class for a Group of 3 from the same flock, Tom Kenny was 1st, with Padraic Niland and Brendan & Patrick Hanley, 2nd and 3rd.
We had 12 excellent Young Handlers compete and Michael Brooks was in 1st place with Evan Turley 2nd and Ella Bailey in 3rd place
Padraig & Michael Treacy's ram Lamb Gailey A One was the Male Champion with Tom Kenny's Ram Lamb Hillswood Aztec, Reserve Male Champion
Padraic Niland's Shearling Ewe PNI 16038 was Champion Female with Tom Kenny's Senior Ewe KTE 14029 in Reserve
The Supreme Champion was judged to be Padraic Niland's Shearling Ewe with Tom Kenny's Senior Ewe, Reserve Supreme Champion
Thanks to the Committee of Athlone Agri-Show for accommodating us in holding the Championships at short notice. Thanks also to those members who assisted with setting up beforehand and taking down the penning after the show. To our 3 ring stewards for their work on the day. Congratulations and thanks to the members for the huge show of support in the great number of entries.
A huge vote of Thanks also to our Sponsors:
Roscommon Co-Operative Livestock Marts Ltd
Vet Supplies, Roscommon
Greenvale Feeds
Chanelle Veterinary