Greenstar Flock produces a Star with their first lamb at Blessington Premier.
Greenstar Alfie, a Wallstreet son definitely produced Wallstreet figures by hitting €17,000. The outstanding son of Tophill Wallstreet was sold after hurried bidding to Milnbank, Strathbogie and Seaforde Texels. Mr. John Mellin from Hullhouse Texels U.K. had earlier tapped him forward as his 1st placed Novice Ram, then Male Champion and Supreme Overall Champion.
John Greene also sold a full brother of the Champion for 5700 to Rodney McLaughlin, Clara Texels
The Reserve Male Champion exhibited by Anthony Donnelly Lot 212 DII1701298 also a grandson of Wallstreet by Knock Yazoo was purchased by McHugh Bros from Donegal for €4800.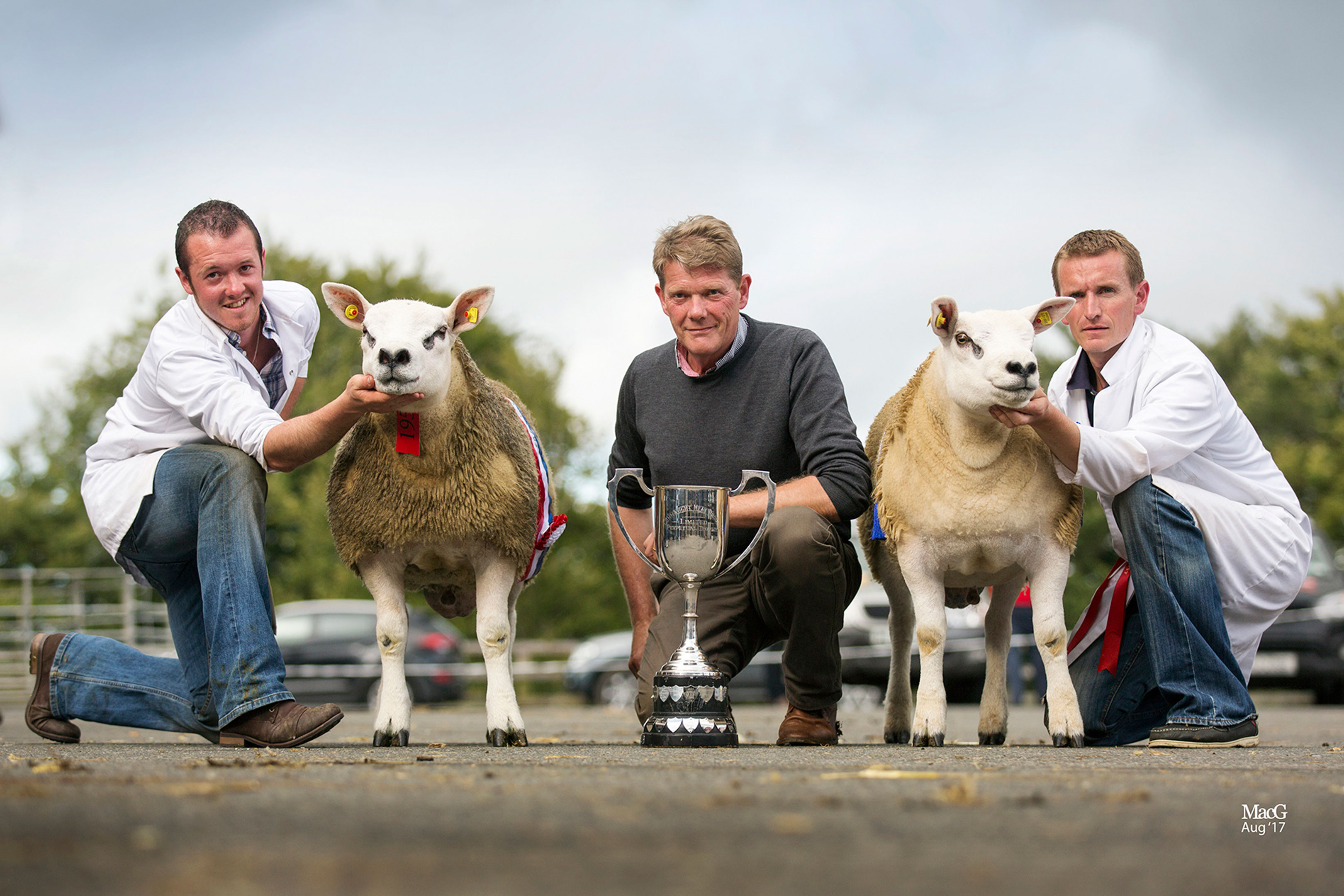 In the female classes Mr. Mellin found his Champion in a hoggett ewe sired by Claybury Warrior exhibited by A&P O'Keeffe OKI16029, she sold for 1450 to Ben Kelly. Reserve Female Champion was awarded to D&E McManamon with a daughter of Forkins Will-I-Am and a Strathbogie Stiffler ewe she was purchased by Donegal breeder James McGrath for €2300. The highest priced female was Lot 15 exhibited by Flor Ryan, Ryan Texels. This flashy daughter of Duncryne Uber Cool was snapped up by Hexel Texels for €4300.
Flor Ryan and John Donohoe then went on to purchase a son of Cressage Yankee bred by McHugh Bros Donegal for €3000. John Greene then presented Lot 305 a full brother to Greenstar Alfie into the ring. He was purchased for €2600 by Noel Gallagher Agricare Texels Co. Donegal. Ronan Gallagher then hit €2600 with a son of Tophill Union Jack selling to Michael Sinnott Co.Wexford. Co. Cork breeders Eddie & Sheena McCarthy snapped up another very catchy son of Tophill Will Street for €2400, bred by Willie Doherty's Hillcrest flock from Co. Donegal. John Greene then continued his winning ways by selling a Strathbogie Yabba Dabba Do son for 2200 to Co. Meath Texel breeder Pascal Keogh. A son of Knap Your the Man from Thornville Texels was purchased by J, C & M McHugh for €2100. They then recovered their outlay by selling a Maineview Will-I-Am son at the same money to Edward Buckley Kilbarry Texels Co. Cork
P&B Farrell sold Oberstown Ysagyum sired by Procters Ventura to Michael Murphy's Co. Galway Texel flock for €1900. Also at €1900 a lamb sired by Mac's Wannabes bred by Shane McHugh found his new home in the Hillswood Flock of Tom Kenny Co. Roscommon. A commercial buyer got value in Lot 253 by Foundry Texels when he purchased a powerful ram sired by Greenhill Yemen Boy for €1800.
Commercial rams sold for between €370 right up to the top commercial price of €1800, the average was €1089.
Pedigree rams cleared at varying prices ranging between €350 to the top price of the day for the Champion at €17000. Overall there was an 82% clearance rate across the sale. Female clearance at 69%, with prices from €420 to €4200 for the highest.
Female Champion                        Lot 212 A&P O'Keeffe Co Cork Sold for €1450
Reserve Female Champion            Lot 24 D&E McManamon Sold for €2300
Male & Supreme Champion                                     Lot 195 C&L Greene            Sold for €17000
Reserve Male & Res Supreme Champion            Lot 212 Anthony Donnelly Sold for €4800
Invalid Displayed Gallery