Ornaith Clarke's Trojan Texels
Most Improved Flock 2019
Fit, Functional, Fast growing sheep with Figures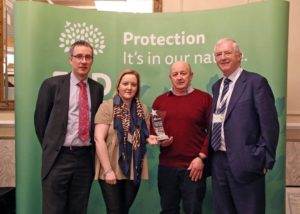 It was inevitable that I ended up breeding Texels. My dad Alex had Texels around as long as I can remember. I purchased my first ewes in 1999 from John Madden's sale in Hilton Park and ran them alongside dad's Alepat flock. By 2004 my flock had grown to 12 ewes and Trojan Texels was established.
In the early years we did a lot of showing. The high point coming in 2007 when our senior stock ram Ballydonaghy Kunneyfunt became All Ireland Champion. Kunneyfunt went on to secure 11 Texel and 2 interbreed championships. Not only a champion show sheep, he was also a consistent breeder and appears in most of our female ancestry.
In 2009 we joined Sheep Ireland. With work and study commitments we eased off on the showing circuit. We increased focus on commercial traits, producing "fit, functional, fast growing sheep with figures".
Our breeding programme is as nature intended, ewes are run with teasers and then served naturally using 4 to 5 service sires. Despite my flock being on the smaller side I'm able to use 4 or 5 top sires as I share them with my dad's flock, the three Ryan flocks in Kildare and Johnny Donohue's flock in Kilkenny. We can still mate all naturally as the other flocks lamb later in the season. Another benefit of sharing rams is being linked to other quality Sheep Ireland flocks, increasing accuracy figures for all traits and producing high star rated rams for sale and replacement females.
We are very proud to have been awarded "Most Improved Flock" across all breeds in the Sheep Ireland Programme 2019. Since joining Sheep Ireland in 2009 we have recorded data accurately. When picking new sires we place importance on Sheep Ireland star ratings without compromising on traits necessary for our breeding programme. Most of our rams are sold at home to repeat customers, commercial farmers for whom an 'easy lambing' head is an essential trait.
Helping us to achieve all this, our most recent sires, Hilcrest Yeovil, Foundry Achilles and Derrylahan Big Balls.
The Sheep Ireland sale in Tullamore is for us, our main sale and where we target our best rams. In recent years this has proven difficult as more repeat customers arrive to the farm earlier in the season in the hope of purchasing our best rams.
| | |
| --- | --- |
| Michael Duff | 'I run approximately 450 ewes here in Drumconrath, Co. Meath. I heard about the Trojan and Alepat Flocks by word of mouth. I like to go early in the season to pick from a large selection of naturally reared sheep with high star ratings. I find I have more of a choice on farm than at most local sales. As a busy farmer and contractor, on a wet evening I can be in and out of the yard in about an hour with my rams purchased. While I use various breeds across my flock, I find Texel lambs ease the work load at lambing time. They are up and sucking quickly and need very little intervention. Later in the year, I dose Texel Cross lambs less frequently which also helps to ease my workload and is cost saving on a big flock like mine.' |