On the 45th Year of the Irish Texel Sheep Society it was truly a year to remember, with record averages and prices in all sections! This was the first year the event was sponsored by Growvite! Just like the lambs when they get growvite the averages of the sale grew this year!
The society took the brave move this by increasing the number of rams on offer was met with a very strong commercial trade throughout with the last of the 270 rams on offer still hitting four figure prices.
While a strong commercial trade kept the sale going, pedigree Irish breeders investing in the best added a further dimension to the sale. This resulted in a massive 16 rams selling for €3,000 or more on the day. Such was the demand for quality young rams, average rose by over 50% on the year. Overall, 80% of the over 200 ram lambs on offer sold for an average of €1,527, up from €973 in 2020.
Helping to boost this average was two rams which hit the market at €10,000 each. First at the money was a ram lamb from the Annakisha flock of Arthur and Patrick O'Keeffe, Mallow, Co Cork. The February born ram is a son of Hexel Born To Be Wild and out of a Hope Valley bred ewe. A second prize-winner to the overall champion the five-star ram was knocked down to the Blue Gate flock in Northern Ireland. This topped an exceptional day's trading for the O'Keeffe pair who sold five rams for an average of over €5,000!
Fellow South East breeder Robert Walker from Co Limerick was the second to hit the sale topping price. His young ram, Kilcurley Ed, is sired by Stainton Coca Cola and out of a homebred Carbo Wagon Wheel bred dam. Four stars on the replacement index and five stars on the terminal he was secured by the McHugh family.
This again topped an incredible weekend for Mr Walker who the previous day took the male and supreme championship with Kilcurley Evann. This end of January born ram is a son of Harestone Commander is out of a Foreman Hill ewe by Foreman Hill Action Man. Hitting the market at €4,600 he was the pick of Kilkenny breeder Paddy Morrissey. The young Kilcurley ram was tapped out by judge Michael McHugh who coincidently secured Walkers joint sale topper. It must be noted however that due to Covid procedures in place each exhibitor was only allowed present one entry per class, so the sale topper secured by McHugh was never presented on show day.
McHugh awarded the reserve male championship to Annaghdown Edoardo from Brian Divilly, Co Galway. This January 2021 born ram secured first place in the novice class before placing as reserve male. Sired by the 40,000gns Garngour Alabama he is out of a Recess bred ewe that stood champion in Roscommon in 2019. He was secured for €7,000 by James Garrivan and Ronan Gallagher for their Clew Bay and Enniscrone flocks.
Acquiring a bid of €8,500 was Hill View Eloi from Ryan Doherty, Clonmany, CO Donegal. This February ET born ram is a son of Nochnary Del Boy and from a Cherryvale dam by Halbeath Woody. Breeder of the joint sale topper Robert Walker reinvested his money securing Eloi in partnership with previously mentioned Ronan Gallagher.
Matching the €8,500 price was Carlow breeder John Redmond with his ram Knockhill Engel on his second time selling in the premier sale. This Midlock Dapper son is out of a Ballynahone bred dam by Duncryne Uber Cool. Five stars on the terminal index and four on the replacement the February born ram was secured by a syndicate of J. Swewart, C. Heraghty, T.J. Duffy and D Sheils.
Next in line was the aforementioned Arthur and Patrick O'Keeffe who sold the second of their Annakisha ram lambs at €8,000. This son of the 65,000gns Garngour Craftsman is out of a ewe purchased from the Sportsman flock at 9,000gns. This February born twin lamb was secured by Edward and Sheena McCarthy for their Awbeg flock in Co Cork.
Reaching the €5,000 mark was Silver Hill Ecstatic from Neville Myles, Ballyshannon, Co Donegal. This was one of the first sons offered for sale from last year's premier sale topper Greenhill Dance Monkey. Dam of Ecstatic is a Strathbogie ewe by Mullan Armani who was purchased for 5,000gns. Ranking five stars on both indexes he was secured by J. Neville, L. Dillon, J&N Kidd, J. Redmond and Sprinwell.
John Neville recouped some of this investment as his top lamb, Thornville Ewe Pleaser for €4,600. This February born lamb Proctors Chumba Wumba of a Hexel Born to Be Wild ewe . He was secured by John Kidd for his Treemore flock and Dermott Behan Millview.
John, Colm and Michael McHugh who purchased one of the joint top selling rams had earlier in the day had a super run selling six ram lambs to average just shy of €3,000. These were all sired by the stock ram Procters Class Act who was purchased at Lanark for 8,500gns. Top of the prices for McHughs was Greenhill Ecstasy who hit the market at €4,500. Five stars on both the terminal and replacement index he is out of a Mainview Will-I-Am bred ewe and was the choice of Shane McHugh of the Figart flock.
Next best was a call of €4,000 for Greenhill Elusive Diamond. This February born ram was the same way bred as the previous lot being out of Class Act and a Will-I-Am bred ewe. Again, five stars on both traits, this once was the pick of Niall Brennan of the Grangehill Flock in Co Sligo. The rest of the Greenhill rams sold for €2,800, €2,400, €2,200 and €2,000 respectively.
Although one of the last ballots through the sales ring, the Enniscrone flock of Ronan Gallagher peaked at €3,600. This was paid for a February born ram sired by Enniscrone Donavon who placed second in the open ram class at last year's premier. Dam of this lot was a Strathbogie ewe secured by Gallagher at the 2019 Northern Lights sale. Joseph McKenny was the successful bidder here.
The O'Keeffe duo from outside Mallow were again back in the money when they sold their third Annakisha ram at €3,200. This end of March born ram lamb is a son of the previously mentioned Midlock Dapper with the dam the same ewe as the €10,000 joint sale topper. This one was the choice of Martin Warde.
Matching the price was John Neville's second exhibit Thornville Extra Special. Sired by Garngour Dictator he is out of the flock's best breeding ewe which was imported from the Auldhouseburn flock. This one was knocked down to Neville Myles for his Silver Hill flock.
Securing a bid of €3,000 was Clew Bay Efficient. Bred by James Garrivan, this January born ram is a son of Tullyhill Desery Eagle and out of a Tamnamoney bred ewe. He was secured by the Recess flock in Co Galway.
Shearling rams also proved in hot demand with 44 of the 49 present selling for an average price of €1,045. This average is up €80 on the year. Leading prices in this section was the first prize shearling ram Springbridge Deadly. Bred by Wexford man Thomas Whelan and his grandchildren, this February 2020 born ram is sired by Thornville Austin and out of a homebred ewe. Deadly was the choice of John Wehrly for his Ravensdale flock in Co Louth who secured him at €3,000 which was the top price shearling ram on the day..
As can be seen all these highlight prices were for rams secured by pedigree breeders. That said, as previously mentioned this was underpinned be very strong commercial buyer demand. If we look at the remaining lots, we see that 66% of all rams sold made between €400 and €1,200. Buyers of these lots proved eager however with many willing to spend that bit extra to secure their ram of choice.
Females
For the first time ever, the society made the decision to run the female sale on the Friday evening following the show. This decision proved worthy as not only did we see a few standout prices but it significantly took off pressure on the Saturday morning.
Overall shearling ewe trade averaged similar to a very impressive 2020 sale at just shy of €1,300. Clearance for shearling ewes also proved exceptional at 96%.
Leading the way in the female trade was Donegal breeder John Greene and Family with their Larahil flock. Their top entry was a January 2020 born ewe by the 16,000gns Procters Cocktail that hit the market at €6,000. Out of a Knock ewe by Allanfauld Am The Man she boasted four stars on the replacement index. She was secured by the Hill View flock of Ryan Doherty.
The Greene family also secured the reserve female championship with another Procters Cocktail daughter. This February 2020 born ewe is out of a homebred Kelso Pavarotti sired dam and was knocked down at €5,500 to William Carey. The same buyer also paid €2,000 for a ewe from the Boal's flock of Mervyn and Anna Boal, Letterkenny, Co Donegal. This Enniscrone Bronson sired ewe is out of a homebred Fordafourie Windfall daughter and placed third in the shearling class.
Topping ewe lamb trade was Pat and Barry Farrell with a ewe from their Oberstown flock. This Hexel Born To Be Wild daughter is from a Garngour bred ewe from the same family as Midlock Capaldi which sold for 200,000gns. Catching the eye of Andrew Hayden she met her reserve at €2,600.
Securing the female and reserve supreme championship in the pre-sale show was the Annakisha flock. This first prizewinning ewe lamb was sired by Midlock Dapper with her dam a Knock Travis daughter purchased from the Forkins flock. Selling at €2,100, this topped a super few day's trading for Arthur and Patrick O'Keeffe.
William Doherty secured a bod of €2,100 for a ewe lamb from his Hillcrest flock. Sired by the 17,000gns Sportsman Cannonball, she is out of a Blackstown ewe by Auldhouseburn Black Magic.
Ewe lamb trade seen a big improvement on the year with average price rising by €175 to rest at €926. This again was matched with a clearance rate of over 90%. Overall, 33 of the 84 females which sold on the night made four figure prices.
Other leading prices will be listed under the pictures below.
In the lead up to this year's premier the Irish Texel society also ran an editorial competition with the Irish Farmers Journal. While this no doubt helped to highlight the sale it more importantly gave young people a gateway to get into the breed with the winning prizes vouchers to be spent at last weekend's sale. The competition seen four category winners receive €250 each with the overall winner receiving a further €250. We are pleased to announce this year's overall winner as 17-year-old Liam Gilligan who can be seen pictured with his new purchase. Well done to all the winners and well done to all the organisers, sellers and buyers at the weekend.
Please note the pictures below are for the use of the society only if you wish to purchase these for own use click this link. Purchase Photos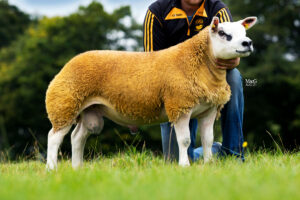 OKI2106402 €10,000 Click Here for Full Pedigree Details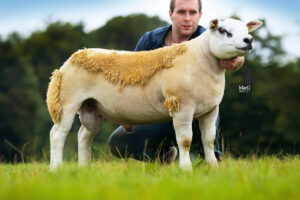 RWE2104627 €10,000 Click Here for Full Pedigree Details
RYE2112591 €8,500 Click Here for Full Pedigree Details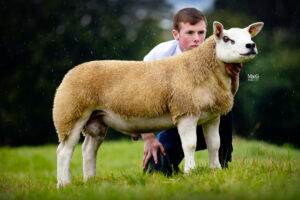 RJG2107029 €8,500 Click Here for Full Pedigree Details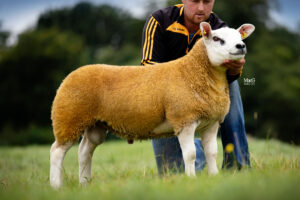 OKI2106427 €8,000 Click Here for Full Pedigree Details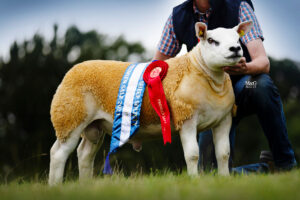 DBH2102797 €7,000 Click Here for Full Pedigree Details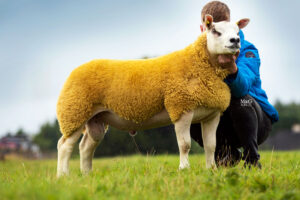 NVI2102305 €7,000 Click Here for Full Pedigree Details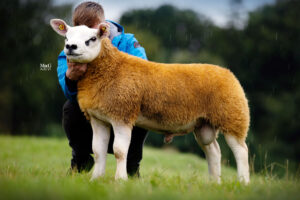 UVI2101546 €4,600 Click Here for Full Pedigree Details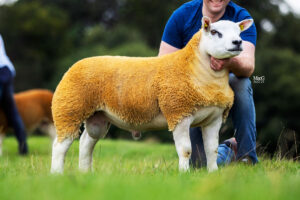 RWE2104563 €4,500 Click Here for Full Pedigree Details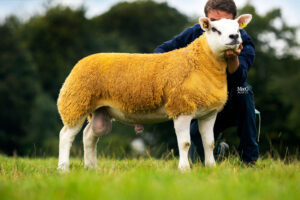 HUI2106954€4,500 Click Here for Full Pedigree Details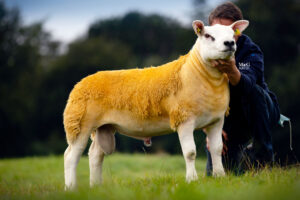 HUI2106975€4,000 Click Here for Full Pedigree Details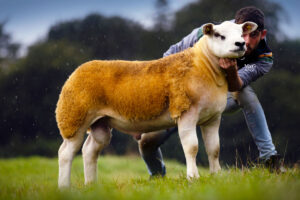 GAI2101760 €3,600 Click Here for Full Pedigree Details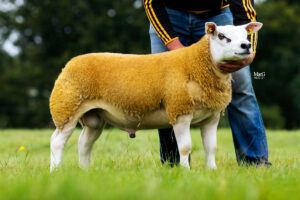 OKI2106440 €3,200 Click Here for Full Pedigree Details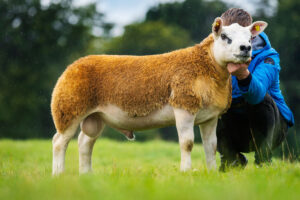 UVI2101607 €3,200Click Here for Full Pedigree Details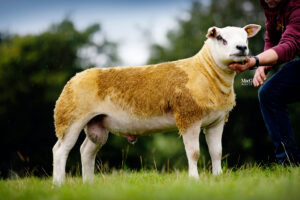 GBE2102537 €3,000Click Here for Full Pedigree Details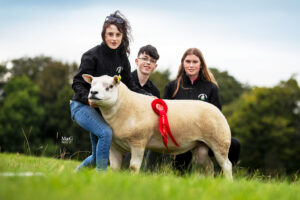 TWF2001904 €3,000Click Here for Full Pedigree Details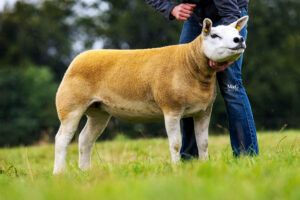 GEI2004285 €6,000Click Here for Full Pedigree Details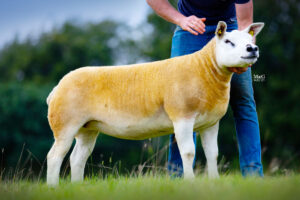 GEI2004263 €5,500Click Here for Full Pedigree Details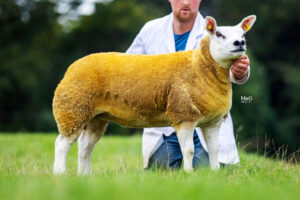 TOKI2106397 €2,100Click Here for Full Pedigree Details